Self-Care Parenting Program for Working Parents
This program focuses on reducing the guilt working parents mostly have. The program helps parents who are working, strategise how to balance work and family life. Parents have a positive shift in their thoughts and actions by knowing about myths & facts around parenting, their parenting style, techniques to reduce stress, anxiety, anger and successfully balance their professional and family roles. It will help increase organization's productivity, and sustain high employee morale.
Do you relate to one or more of these?
There is a need for workshops like stress management, work-life balance to increase the employees' morale, productivity of staff and company's profit.
The physical health of employees is getting impacted along with mental, emotional, social health, in turn leading to decrease in sales.
There is an increase in absenteeism amongst company's employees. They lack purpose.
There are stress, anxiety, anger issues in employees at the workplace.
The personal life of employees is also getting disturbed because of unrest, stress, guilt, and anxiety.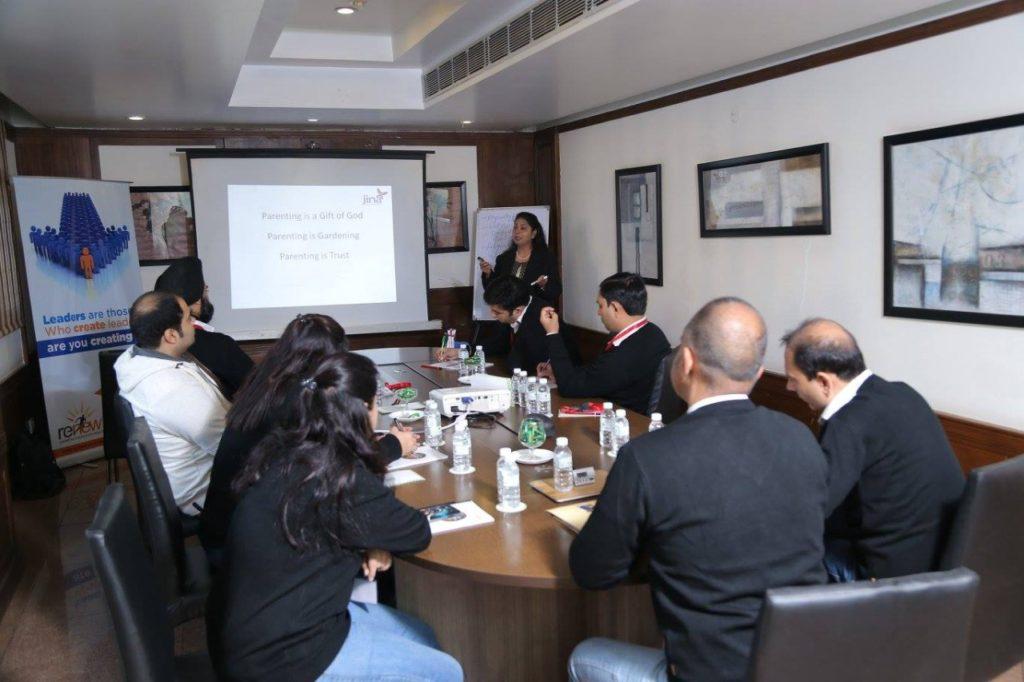 A Solution that worked for many
If you have 'Yes' to 2 or more statements given above, then you are at the right place.
Be Your Own Therapist, the self-care program for working parents helps you create a Self-Care toolbox with the help of experiential activities, psychological tools & techniques that empowers people to reduce stress, anxiety, anger, and enhance their happiness, emotional intelligence and mindfulness quotient at professional and personal levels. It also helps organizations to make more money. As per a Harvard Business Review article, happy employees mean higher profits.
Glimpses of the Employee Wellbeing Program
"Kavita Ma'am, it was really a great experience doing your signature 'Self-Care Program – Be Your Own Therapist'. It is very well designed, structured and you explained each topic from anxiety to understanding your emotions to practicing mindfulness in the form of slow breathing to how to deal with kids and many more so effectively. The best part is that you made us create a self-care tool kit which is extremely useful. You taught so many tools and techniques which I will definitely use for myself. Very thankful and blessed to be a part of this workshop. Thank you, Ma'am."
"Dear Kavita, Perfect is the word that comes to mind when I try to describe this Self-Care Program – Be Your Own Therapist. I don't think I could have gifted anything better to myself. I appreciate your thoughtfulness. In ordinary life we hardly realize that we receive a great deal more than we give, and that it is only with gratitude that life becomes rich. Your creativity and attention to detail is truly outstanding. I would have never thought how meaningful these small things could be. Thanks again for designing such an amazing program."
The Process of this workshop/program
Step 1: Consultation Call to clarify all doubts, questions regarding the program, if any left after going through the details on this page.
Step 2: Once in the program, you will learn about.
Myths and Facts of Parenting, Your Parenting Style and its impact on your
child's development.
Emotions – Its types. What is behind your reaction and its consequences.
Ways to practice self-care.
Understand how much Stress can you survive with the help of Hardiness
Scale.
Stress management mechanisms. Understand yourself better.
Anxiety Management Strategies
Anger Management Strategies
Practical mindful activities to bond better with your children and teens (Parenting and Leadership are two sides of the same coin)

Program Fee for the complete program– INR 75 thousand. Participants get reading material and a certificate on successful completion of the program.
Program Fee –  INR 75 thousand for  complete program.
Program duration – 10 hours/5 days.
The program in no way claims to be a replacement for medical or mental health treatment in any form. It will help participants understand themselves better as parents, as working professionals who are equipped with the knowledge and practical techniques to balance their work and family life without stress, anxiety and anger.
Online it is of 5 days, 2 hours each day. Total 10 hours program. Offline it is of 2 days, 5 hours each day.
The program is designed for working parents, employees of any organization.
Gallup study in 2019 suggests that employees who had higher wellbeing, are better engaged, satisfied, and feel belonged, tend to have higher engagement as well as increased positive change in their mindset. There's plenty of hard evidence that shows that happy employees lead directly to better performance and higher profits. It pays to invest in your people.
According to WHO (World Health Organization), India accounts for nearly 15 percent of the global mental health burden. According to Deloitte's Mental Health Survey, poor mental health amongst employees costs Indian employers around USD 14 billion annually in absenteeism, lower productivity and attrition.
This program enables employees to be happy, less anxious, less stressed and in turn more productive leading to higher profits for the organization.